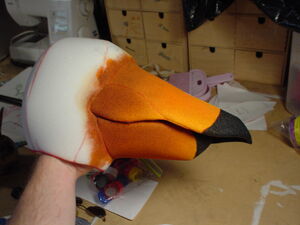 The Griffin is from the Swazzle puppet show Hazel and the Dragon. With the beak of an eagle and the paws of a lion, he seems imposing and at first, but really he is proper, and a bit goofy. In the show he provides Hazel with one of his features, a key ingredient for a magic potion that Walnut the Wizard is brewing up. The Griffin was designed by Patrick Johnson, and built by Sean Johnson. He is performed by Patrick Johnson.
It was used again later for the Wild Republic PSA "All Birds in Big Nest Theaters," to exhibit that growling is not allowed in movie theatres.
External Links
Ad blocker interference detected!
Wikia is a free-to-use site that makes money from advertising. We have a modified experience for viewers using ad blockers

Wikia is not accessible if you've made further modifications. Remove the custom ad blocker rule(s) and the page will load as expected.