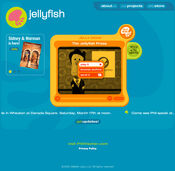 The Jelly News
is a puppet-hosted video web series by Jellyfish Labs that first aired on October 28, 2005. The series highlights current events, weird news, and information about Jellyfish founder and main puppeteer,
Phil Vischer
.
This mock-news show features news anchor puppet, Buck Denver, and several other characters that appear as experts, special guests, or viewers. These other puppet characters include: Helen Rosenfiddle, Captain Pete, Kid on the Street, and Cutesy Pigtail Girl. There are also animated guests that have appeared on various episodes.
Episodes
More Fun
In addition to the regular news stories, The Jelly News also has featured some extra stories, as any good newscast. To date, the two categories under this "More Fun" tab are Jelly of the Month and Pirate Etiquette with Captain Pete.
Jelly of the Month Episodes
Pirate Etiquette with Captain Pete
Trivia
The Jelly News studio was rebuilt in January 2007.
External links
Ad blocker interference detected!
Wikia is a free-to-use site that makes money from advertising. We have a modified experience for viewers using ad blockers

Wikia is not accessible if you've made further modifications. Remove the custom ad blocker rule(s) and the page will load as expected.