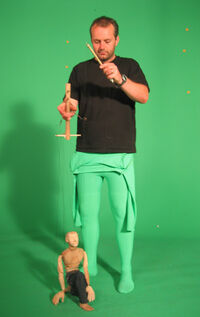 Tony Sinnett is currently living and working in the south east of England (UK). He designs, makes and performs marionette puppets, but he has also done some shadow puppetry work ('The Virgin Queen' - BBC Television).
Tony has made and performed marionettes for TV, film and theatre. He's always been fascinated by puppets (particularily marionettes) but after leaving college he trained as a church pipe organ builder before setting up his own small handmade furniture business. A love of woodcarving brought Tony back to making marionettes some years later.
Recent commissions include making marionettes for Dick n Dom in da Bungalow (BBC Television) and making the marionette for a Viral Ad (Levis Jeans)which he helped perform alongside pricipal puppeteer Ronnie Le Drew.
External Links
Ad blocker interference detected!
Wikia is a free-to-use site that makes money from advertising. We have a modified experience for viewers using ad blockers

Wikia is not accessible if you've made further modifications. Remove the custom ad blocker rule(s) and the page will load as expected.