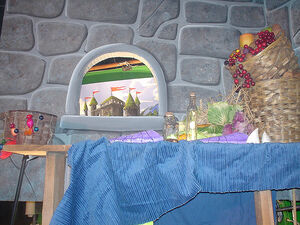 Walnut's Workshop belongs to the Swazzle character Walnut the Wizard. It can be seen in the video "Door to my Heart". On the table are various props from other Swazzle puppet shows, including some food from Prairie Dog Pete and the Magic Buffalo some left over Tyrannosaurus Rex teeth from Harry and the Tyrannosaurus Rex, and the fishing basket from Polly Polar Bear and the Prince of the Sea. If you look throught the window you can see the background painting from the Hazel and the Dragon puppet show. Which was painted and designed by Patrick Johnson.
Ad blocker interference detected!
Wikia is a free-to-use site that makes money from advertising. We have a modified experience for viewers using ad blockers

Wikia is not accessible if you've made further modifications. Remove the custom ad blocker rule(s) and the page will load as expected.