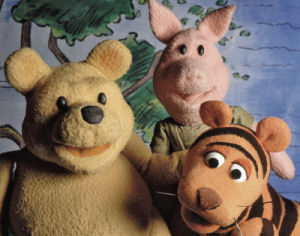 Winnie the Pooh is a classic tale and show going on through 2008 at the Center for Puppetry Arts in Atlanta, Georgia. It was adapted by Kristen Sergel and directed by Bobby Box.
See also
Ad blocker interference detected!
Wikia is a free-to-use site that makes money from advertising. We have a modified experience for viewers using ad blockers

Wikia is not accessible if you've made further modifications. Remove the custom ad blocker rule(s) and the page will load as expected.